Just mention the name, Havana, Cuba and it immediately invokes memories of salsa, of crumbling dilapidated buildings and old American classic cars.  In some parts of Habana it's like time stopped back in 1959, and then, as if it started again, but somewhat jerkily as if the wrong battery has been fitted.  Havana is like all the photos you've seen in National Geographic.  There's an elegance here, but still, there are many stunning buildings in a glorious crumbling decay.  Some are half fallen down or held together with whatever comes to hand.  Of course, I'm not talking about the squares of Old Havana (Habana Vieja) where tourist dollars have rebuilt, replaced and replenished.   Wander a little off the beaten track, where you'll feel completely safe, and you'll see the difference.  Come on in and see this magnificent vibrant city and explore the best things to do in Havana, Cuba.
THIS POST MAY CONTAIN COMPENSATED AND AFFILIATE LINKS. MORE INFORMATION IN OUR DISCLAIMER
There's a LOT to see in Havana – whether you want Havana museums, famous bars in Havana, or excursions around the city.  The time you decide to allocate to Havana will dictate your itinerary in Havana – and much of what you do in Havana will depend on your interests.  There are itineraries for history lovers in Havana, attractions in Havana for families, places to go for beach lovers in Havana and then, places to go in Havana if you just have one day.   Anyways, for now, let's look at Havana's best things to do.  But first, a quick thought.  The key to seeing what you want of Havana is where you're staying in Havana – as it impacts how easy it is to get to Havana's attractions.
Where to Stay in Havana
Much of the best experiences in Cuba are to be had by staying close to the heart of cities, beaches and towns.  The closer you are the easier it is to get out there and experience it and the less time you spend travelling around trying to get to the heart of the action.  It might be that you want to stay in a hotel (and Old Havana has options like the swanky Kempinksi Manzana) or you want to experience Cuba from a Casa Particular (read about them here).
Havana is a big city and you'll want to pick the neighbourhood that best suits what you want to do and see in Havana.  HINT:  The neighbourhood of Old Havana is a great option for the best place to stay in Havana for first-time visitors to Cuba.  Our guide here explains more about the neighbourhoods of Havana and the best places to stay in Havana. 
Old Havana – Habana Vieja in Spanish is the historic centre of Havana.  Gorgeous colonial splendour, colourful, character-filled streets and crumbling glory if you step off the beaten track.  It's here that you'll find the main places to eat, to drink, the best walking tours of Havana and if you only have a short time in Havana, this is the best part of Havana to stay in.
The Casa Buenos Aires is in a superb location in the center of Old Havana, just one block from the Museum of the Revolution, making it easy to walk all the sights of Old Havana.  There are three private, ensuite rooms here, all with a private bathroom and a private balcony.  Breakfast and laundry are available here.  There is internet access here, a glorious garden and terrace with a bar where you can enjoy a fabulous Cuban cocktail.  See photos of the Casa Buenos Aires here.
The gorgeous Casa Giraldilla is a restored colonial house dates from the 1920s and has high ceilings and a glorious balcony for people watching.   Carmen and Carlos speak English, Spanish, and a little French.   All rooms are ensuite and have either a window or a balcony onto the street.  There are two doubles and a twin room here.  Breakfast and internet access is available here.  There is a glorious terrace on the roof available to all guests.  Book a room here.
The Casa de La Plaza de Cristo is in a building that dates from 1903, an 8-meter long balcony gives all guests a magnificent view of the Plaza de Cristo.  It is a fabulous location to stay at in Old Havana.  Rooms here are bright and airy, simply decorated and have air conditioning.  Rooms are ensuite and breakfast is available for an additional cost.  You can see the location of this great old Havana casa particular here.
Right.  Now that's sorted, let's get on and look at the top things to do in Havana, Cuba.
Take a Free Walking Tour in Havana Cuba
Taking a walk around Havana is one of the best ways to explore her.  Wherever you might be staying.  So much of Cuban life is lived outside, so a quick wander will get you seeing lots and lots of life.  There are street vendors, gorgeous classic cars – both restored and not.   But taking a walking Cuba is better with a local taking you around, explaining the history, the stories and of course, where to get the best food and cocktails in Havana.   This FREE walking tour of Old Havana is a fabulous introduction to the city.  The tours are tip-based and run in Spanish and English.  And this tour was the first thing we did when we arrived in Havana.  This specific walking tour of Havana focuses on Old Havana, but covers the culture of Cuba, some history basics and explores the area, pointing out various museums to visit, what to eat and where to go not just in Havana, but in the rest of the country.  You'll need to make a reservation and the tour meets at 1000 and 1500 each day by the Fountain of the Lions in Francisco de Asís Square, also known as Plaza de las Palomas.  These FREE Walking Tours last about 2 hours and 30 minutes.  And they are GREAT. Book a Havana Free Walking Tour Now!
Take Classic Car Convertible Tour of Havana
There is nothing in the world like taking a ride in one of Cuba's Classic American Cars down the Malecon.  It is pure magic.  These emblems of Cuba came about because of the many trade restrictions placed on Cuba following the 1959 Cuban Revolution.  No new imports came into the country – and so it became necessary to repair, renovate and restore these old cars as a way of life, not just for tourists.    And while you'll see some really dilapidated cars, you'll also see some stunning examples of 1950's Classic Cars.  Taking a ride in a Classic Car in Havana is truly an iconic thing to do in Cuba.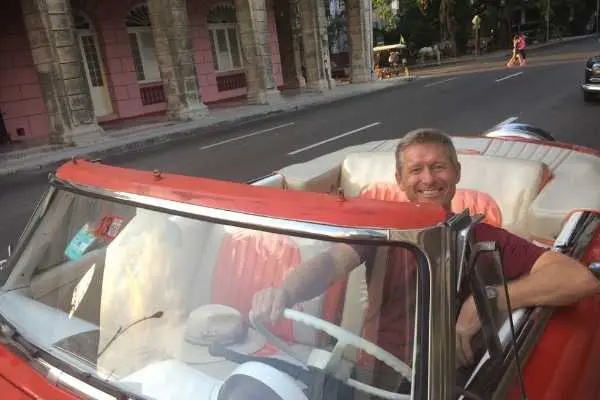 Most tours last 90 minutes – and while you can find them parked usually around the Museum of the Revolution in Havana – and try your hand at negotiating and pay in cash, it is much easier to prebook a tour and specify exactly what you want ahead of time.   You can read more about Convertible Classic Car experiences here  – or book a classic car tour of Havana here.
Explore Havana's Museum of the Revolution
There are a variety of museums to visit in Havana, but if you are to pick just one, then make it the Revolution Museum.  It is difficult to come to Cuba without understanding a little of her revolutionary past.  There's a basic history of Cuba here, but if you want to understand more – then we have a reading list of books about Cuba that includes some fascinating history. 
The museum of the revolution is housed in the old Presidential Palace of Cuba.  Following the Cuban Revolution, it became the Museo de la Revolución.  It covers the Cuban revolutionary war of the 1950s and the history of Cuba since 1959.   Many of the exhibits are in Spanish, but there is also some detail in English.  This is a National Museum of Cuba and so the messaging is very on point with the Government.  And it is likely to be very different from what was written in the newspapers of your home country. 
Drive or walk along Havana's Malecon
Havana's five-mile-long esplanade or Malecon follows the coast around the city.  You'll find kids cooling down in the sea and in the evening where you'll find locals walking, talking, drinking and playing music.  Havana's Malecon is a fabulous place for sunset.  Pick up a beer from a street vendor, sit and watch the sun sink into the sea.  Or take a sunset classic car trip.  One thing is for certain you shouldn't miss the Malecon in Havana it's a truly glorious part of Havana.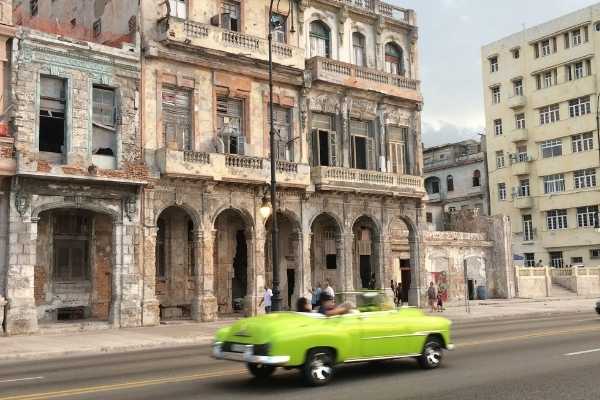 Drink a daiquiri at El Floridita in Havana
Cuba is the country for cocktails.  In fact, you can trace a lot of Cuban history through her cocktails – read my post on Cuban cocktails here – and there are several cocktail bars in Havana with a history that you just can't miss.  Ernest Hemingway spent more than two decades here in Cuba over the years.  And during that time he drank a lot of cocktails here.  And so it's no surprise that there's a statue of him, inside, propping up the bat at El Floridita right in Old Havana (and another reason for staying in the area).  El Floridita is known as the best place for daiquiris in Havana.    It's way, way, touristy.  But heck.  You're here, in Havana and you're a tourist, right?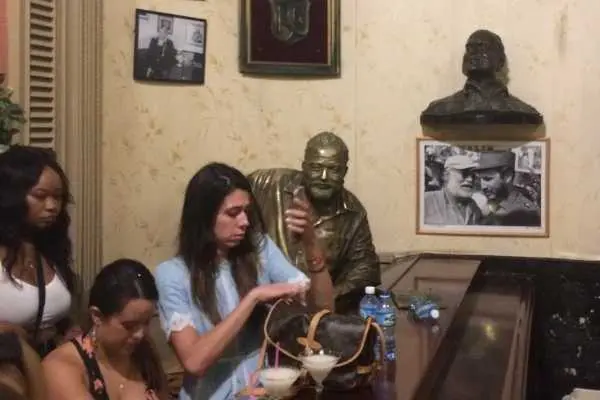 If you like to combine a few stories with your cocktail drinking and would love to include some local flavour too, then consider this guided cocktail tour – where you'll visit El Floridita, La Bodeguita and Sloppy Joes in Havana. Check availability and book now!
Head to La Bodeguita del Medio for Mojitos
This was reputedly Hemingway's favourite bar.  And Havana, Cuba is known as the birthplace of the Mojito – even if it was (apparently) invented by the famous British explorer, Sir Francis Drake.   A mojito here at La Bodeguita will cost you around US$5 – and I confess, they're not the best mojitos.  The best mojitos will most likely be had at the casa particular that you're staying at, BUT you should still go to La Bodeguita and stand at the bar and order one.  Because the show you get while watching them being made is well worth it.  I can still picture it, 5 years on from our first visit there. Get to the front with this awesome cocktail tour of Havana.\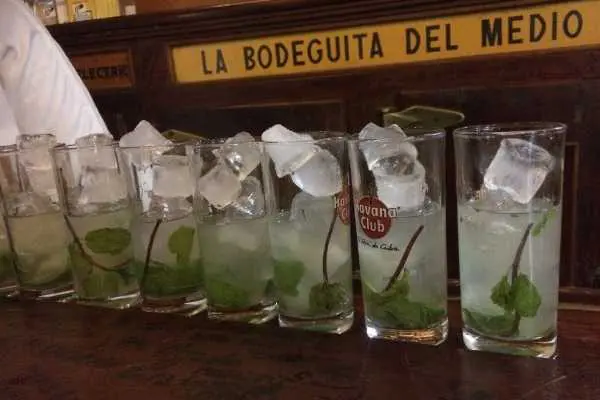 Visit the Rum Museum in Havana
The story of rum can be told all over the Caribbean region – and believe me, when I say we've followed it – from Martinique to Antigua and Dominica – but there's something magical about rum here in Cuba.  It's where the Bacardi empire started, although that's now in Bermuda.  There are a couple of rum museums in Cuba.  The best, I think, is the Rum Museum in Santiago de Cuba, but if you aren't getting that far along the island, then head to the Havana Rum Museum.  You'll find details of it here.  (you'll want to check for local opening times, but if it's not open there's also a fabulous virtual rum museum experience here)
Visiting the Havana Club Rum museum is on our recommended itinerary for 2 days in Havana.
Visit Real Fábrica de Tabacos Partagás – Havana's oldest cigar factory
So we've done classic cars and rum.  The next thing on your list for famous things to do in Cuba while you're in Havana is cigars.    Now if you want to understand more about how tobacco for cigars is grown in Cuba, we recommend heading to the Vinales valley – there more on that here – but this cigar factory in Havana is well worth a visit.
The Real Fábrica de Tabacos Partagás was founded by a Spaniard named Jaime Partagás and built in 1845 and has been producing fine cigars for more than 160 years.  You'll find as many as 400 workers rolling cigars such as Montecristos and Cohibas here.  There's always an English speaking guide available and the cigar shop here is one of the most popular (and reliable) in the city.  A tour costs about US$10 and takes around 45 minutes.  You can pick up tickets at the Hotel Saratoga or the Habana Libre Hotel.  You'll get to see where the leaves are unbundled and sorted, then watch as the tobacco is rolled, pressed, has a band attached and is boxed.  If the tour isn't running (this is Cuba, it's hard to predict sometimes…), then you might want to try your hand at making your own cigars and join this fabulous Cigar Making Workshop.  Not only will you learn the history of tobacco and cigars in Cuba, but you'll roll your own, and get to enjoy it with some local rum too. 
Book this awesome Havana Cigar Making Workshop NOW!
Visit The National Hotel – Hotel Nacional in Havana
The Hotel Nacional is the most famous hotel in Havana.    Hemingway, Sinatra and Churchill have stayed here.     (You can too – check rates and rooms at the National Hotel, Havana here)  but really what you should come here for is the garden and the terrace with stunning views of the ocean.   A mojito on the lawn as the sun goes down is truly an iconic Havana thing to do.    Build it into a tour in a classic car and you'll make for a stunning set of experiences in Havana. Take this classic car tour and tailor it to have cocktails on the lawn of the Hotel Nacional in Havana.
Visit the Capital Building in Havana –  El Capitolio
Until the 1959 Cuban Revolution, El Capitolio was the seat of the Government in Havana.  In a city of gorgeous buildings, it is a stunning building.   It officially marks kilometre zero for Cuba, which is marked by a replica diamond in the floor.  There was originally a 24-carat diamond set here, but it was stolen in 1946.  It was later returned, but it was decided to not risk it again and so the replica was placed here.  Built in the 1920s the Capital Building took 3 years to build, but the congress that sat here was abolished in 1959, with the revolution and then the seat of government moved to the Plaza de la Revolucion (Revolution Square).  From 1962 onwards it became the Cuban Academy of Sciences and the National Library of Science and Technology.   It was then closed for some years for restoration but opened a couple of years back and if it's open while you visit (opening hours can be eclectic), then pay the fee and explore.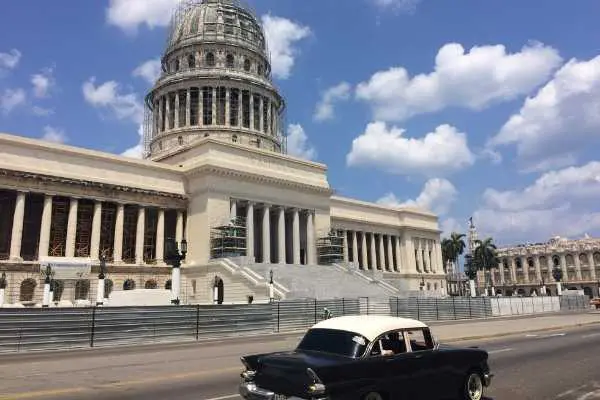 Visit Havana's Revolution Square – Plaza de La Revolucion
You'll need to take a taxi to get to Havana's Revolution square – although we did walk there from Old Havana early morning on May 1st to attend the Worker's Day march and celebrations.  And this is an absolute must-see in Havana.  It's big.  It's grey, but this is where Cuba's rallies and political gatherings take place.  This square is dedicated to the memory of Jose Marti – one of Cuba's political heroes – who was instrumental in working towards independence from Spain in 1898.   The massive monument to Marti sits atop a 30-meter high base shaped like a five-pointed star.  There are arching stairways to an 18-meter high marble statue of Marti.  The center of Government here in Cuba is also here, Palacio de la Revolución (Palace of the Revolution) – it's not possible to visit this building.   The other buildings that stand here in this enormous square at the Ministry of the Interior – Ministerio del Interior – the windowless wall that faces the square has a massive mural of Che Guevara, the image taken from Alberto "Korda" Gutiérrez's world-renowned photo along with the words Hasta la Victoria Siempre ("Always Toward Victory").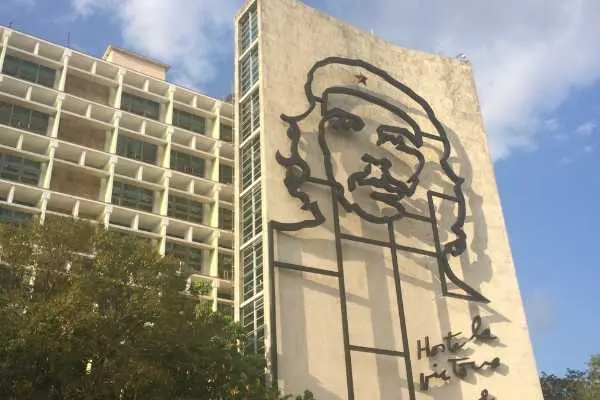 And finally here's the Communications Ministry, the Ministerio de Comunicaciones, where, in October 2009, the face of Camilo Cienfuegos was erected on the 50th anniversary of Cienfuegos's death.  Alongside his face, the words "Vas Bien, Fidel" ("You're doing fine, Fidel"). This was Cienfuegos's famous response in reply to Fidel's question "Am I doing all right, Camilo?" at a rally on January 8, 1959.
You can visit Havana's Revolution Square by private tour or taxi.  (this is a great option to book here. )
The statue of Marti and the murals of Guevara and Cienfuegos are illuminated at night.
Visit Havana's Cathedral
Dominating Havana's Cathedral square is the stunning Havana Cathedral, built between 1748 and 1777.  Known as Catedral de la Habana as well as the Cathedral of St. Christopher (Catedral de San Cristobal), after the patron saint of Havana – St Christopher it also has a third name – the Cathedral of the Virgin Mary of the Immaculate Conception (La Catedral de la Virgen María de la Concepción Inmaculada), as Mary is also the patroness of the cathedral.   This is one of the most photographed buildings in Havana and there are several areas you'll want to take a look at.  Firstly, the building was constructed in part with coral.  When the cathedral was built this was a commonly used building material in the Caribbean. 
If you look closely enough you can see marine fossils in the building.  Inside there's a 14th-century wooden statue of St Christopher.  This Catholic cathedral, one of 11 in Cuba, held (some of) the remains of Christopher Columbus for more than a hundred years.  They were shipped to Havana from the Dominican Republic in 1795 and they were interred here until 1898 when they were then removed to Seville Cathedral. You can visit Havana's Cathedral as part of the Havana Free Walking tour.
Head to the Beach in Havana at Playas del Este
If you're a beach lover, or just want some sea and sand – and Cuba has some amazing beaches – then head to Playas del Este.  This is the easiest beach to reach from Havana.   You can take a taxi (about 20 minutes) or it's easy to reach on the T3 Hop on Hop off bus (get off at the Playa Santa Maria stop)- its four stops –  and it takes about 30 minutes on this bus. 
Alternatively, why not book a private trip to several beaches near Havana? You'll get to travel in a chauffeur-driven classic car.
The beaches here are four-mile-long, white sandy beaches.  The best beach at Playa Este is Playa Santa Maria del Mar, which is 2 miles long.  You can rent chairs and umbrellas at Playa Este and there are plenty of options for food and drink while you're here too.  We recommend filling up on cold beer and grilled fish.  There are also options for renting jet skis and small sailing boats. 
The Playas del Este is one of our favorite Day Trips from Havana – check out more details and other options here.
If you're looking for an alternative way to get around Havana during your stay in Cuba, why not rent a bicycle? It's a great way to get around the city – and beyond, perhaps to the beaches, or if you're staying in Vedado and want to get to Old Havana – perfect! Check Havana bike rental rates here – just don't forget to lock it securely if you leave it unattended!
Essential Resources for Exploring Cuba
Final Words on the Top Things to do in Havana Cuba
Havana is a magical city.  There are museums here, stunning colonial buildings, glorious squares, and a huge amount of history.  No matter what you decided to see in Havana, or for how long you stay there will be something to entertain you.  Be sure to take in the major sites that we've covered in this guide on attractions in Havana, but also take the time to explore off the beaten track.  Just take a walk and explore, there's a lot to see in Havana and the best parts of it will be what you see when you're not expecting it.
Cuba's Best is a participant in the Amazon Services LLC Associates Program, an affiliate advertising program designed to provide a means for sites to earn advertising fees by advertising and linking to amazon.com, amazon.co.uk, amazon.ca. Amazon and the Amazon logo are trademarks of Amazon.com, Inc. or its affiliates.