The UNESCO World Heritage city of Trinidad, Cuba combines picturesque cobbled streets with crumbling colonial architecture built on the profits of the sugar cane trade and a truly Cuban vibe.    The best things to do in Trinidad revolve around exploring this attractive city and understanding its history.  Trinidad is small and easy to explore on foot, with interesting things to do near Trinidad easily accessible.
THIS POST MAY CONTAIN COMPENSATED AND AFFILIATE LINKS. MORE INFORMATION IN OUR DISCLAIMER
You'll find photogenic classic cars here, pastel-painted buildings, and an almost quaint decaying elegance in some of the buildings.  At first glance, you might imagine Trinidad as trapped in a time warp, but spend a little time wandering her streets and end your day at the vibrant Casa de La Musica and you'll realize Trinidad has her rhythm and you shouldn't miss it!
Best things to do in Trinidad Cuba
Trinidad was founded by the Spanish around 1514 and grew to become one of Cuba's richest cities.   This was thanks in the main to the production of sugar cane, tobacco, and the cattle of the area.  It's in no small part also because the vast majority of the labor used to produce this wealth were slaves from Africa.
Trinidad was the most touristy part of Cuba that we visited – but that's not a reason to miss her out.  Explore here and you'll find a whole lot of history that will help you understand Trinidad today:  the best things to do in Trinidad and around include exploring:
The Colonial History and Sugar Cane Wealth that Contributed to Trinidad's architecture
The Natural Beauty of the nearby nature reserves
The stunning beaches bordering the nearby Caribbean sea
The music and rhythms of this central part of Cuba
Top Things to do in Trinidad Cuba
How long you need to see Trinidad Cuba depends on how active you want to be and what you want to see.  At a minimum if you're visiting for one day and one night you can expect to see:
The main historical center of Trinidad
The Bell Tower and the views across Trinidad
The Palacio Cantero
Plaza Mayor – the main square of Trinidad
Bar La Canchanchara – THE cocktail bar in Trinidad
The Casa De La Musica
If you have longer than one day in Trinidad, then you'll want to probably spend time at the beach, Playa Ancon is just 12 kilometers (7.5 miles) away – you can book a classic car to take you there here, a tour to the Valle de Los Ingenios will give you the history of the sugar plantations and the slave trade here and a hike into the Topes de Collantes National Park will help you see some of the natural beauty surrounding Trinidad. Our guide to the best day trips from Trinidad, Cuba explores these and other great days out from Trinidad.
So let's now look at the best things to do in Trinidad, then you can arrange how long you want to spend here!
Take a Free Walking Tour of Trinidad, Cuba
This is always the number one activity when we visit a town or city. Walking tours given by locals are the BEST way to find your bearings in a city. (it's even better when you can find a foodie walking tour because you get to taste as well, but I digress). We are serious fans of free walking tours – because they let me pay everything I'd spend on a tour directly to the tour guide. Free tours, of course, mean, that you tip what you think the tour is worth. You can book THIS free walking tour of Trinidad Cuba as little as 24 hours in advance, so long as there is space. It's a FABULOUS introduction to Trinidad and to what to expect here. And, SPOILER ALERT, you'll get some fabulous tips for where to eat and drink that you won't read about in the guidebooks!
Book your place on this FREE Walking tour in Trinidad Cuba now – it won't cost you a CENT to book.
Explore Old Trinidad
If you'd specifically like to focus on the founding of Trinidad and her history, then this free tour of Old Trinidad is a super option for getting your bearings in Cuba. It meets on the Calle Real de Jigüe and explores the historic center of Trinidad. On this free Old Trinidad Tour, you'll hear about the legends of Trinidad, Cuba as well as seeing some of Trinidad's most traditional neighborhoods, and these are the ones that you won't read about in the guidebooks. You'll get to visit the La Popa, Loma de Los Chivos, La Chanzoneta, and Mano del Negro neighborhoods. These aren't usually found by visitors to Trinidad, which means that in the heart of this very touristy city, you'll get a very local experience. This free tour of Old Trinidad lasts about 3 hours, and you can reserve a place here. While the tour is free (tip your guide in lieu of a fee), you'll need to reserve in order to guarantee a place!
Visit Plaza Mayor Trinidad
The main square in any village or town is usually the best place to start to get your bearings.  Plaza Mayor is no exception in Trinidad.   The often crumbling colonial buildings that surround Trinidad's Plaza Mayor date back to the 18th and 19th centuries when Trinidad made its fortune from the local sugar cane trade.
You'll find shade under the palm trees of the Plaza Mayor here in Trinidad and cast iron benches on which to people watch away the hours.  It's also one of the locations to get internet in Trinidad.  (Read more on how to get access to the internet in Cuba in our guide here).
Regardless of how you access the internet in Cuba – please do consider using a VPN. If you plan on making online bookings (say for the Viazul Bus, or a Casa Particular), checking details of your return flight, or even using some social media sites then you'll need a VPN in Cuba. The VPN that I use (12+ years now) and recommend is ExpressVPN – this link gives you 3 months for free
Some of the historical buildings that surround the Plaza Mayor have been renovated as cafes, hotels, and museums.  You'll find the Museo Historico Municipal and the Iglesia Parroquial de la Santisima here too.
Visit Trinidad's Bell Tower – Museo Nacional de Lucha Contra Bandidos – Convento de San Francisco
If that title of one of the best things to do in Trinidad seems complicated it's because it is.  In this, you're getting three things in one.  The building is the old Convent of San Francisco.  It houses a museum of the Struggle against Bandits (about the Cuban revolution) and attached to the building is the Trinidad Bell Tower which gives you great views across the city of Trinidad.  (See easy when you know how it fits together!)
You can't miss the yellow bell tower of Trinidad.  It's part of the Iglesia y Convento de San Francisco and is a famous landmark of Trinidad.  It also provides the best views of Trinidad.  Trinidad's Convento de San Francisco is no longer a working convent or church but is now a museum of the Cuban Revolution.  (There are other museums of the Cuban revolution throughout Cuba – the Museum of the Revolution in Havana is particularly interesting if you understand Spanish (and it's one of the top things to do in Havana.) The Museum in Playa Giron covers primarily the Bay of Pigs failed invasion and is again worth a visit if history is your thing, and the Santiago de Cuba museum of revolutionaries is worth a visit).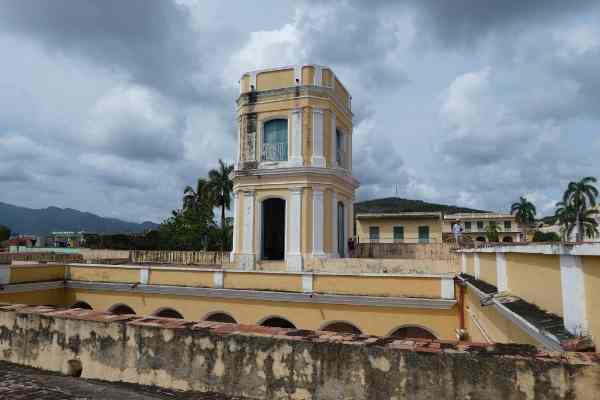 There's a small entrance fee to visit Trinidad's bell tower, but this does cover your entry to the Museo Nacional de Lucha Contra Bandidos (National Museum of the Struggle against Bandits) as well.  The stairs are steep and rickety without railings.  The view at the top and the walk across the roofs is well worth it.
The convent of San Francisco in Trinidad was built in 1813 by Franciscans.  It became a church in the mid 100's, then a jail, very little of the original church remains today apart from the bell tower and a few external buildings.
Hike to Radio Tower Hill in Trinidad
If you want to see more of Trinidad and views over Trinidad's surrounding areas without venturing too far, then take the hike to the Radio Tower of Trinidad.  Cuba is generally very safe and you won't be putting yourself at risk by taking this hike, but you will get some great views of Trinidad and the nearby Valle de Los Ingenios.
The hike is about 30 minutes each way – go early or later, to get the best views and kinder sunlight for your photos.   The views of the cities aren't too great, (you'll want the Bell Tower for that), but you'll get more of an understanding of how Trinidad is located by hiking there.
There are no fees to pay here, but you'll likely bump into a local or two who may want to show you around in broken English, or more likely just Spanish.   Tips will be requested and of course, you'll also be able to buy drinks and snacks from them too.
Explore the Santa Rosa Valley, Trinidad, Cuba
Trinidad's farming community is located primarily in the Santa Rosa Valley, close to the city and this area of farms and rolling green hills is glorious. It's just a short walk from Trinidad's historical center and you are in a completely different world. Now you can take a free walking tour of the Santa Rosa Valley, Trinidad to experience it. Meet your guide at his house (you can walk from the center, and you'll get full map details BEFORE you book this free walking tour) and get stunning views of Trinidad's Santa Rosa Valley, and then set off on a gentle stroll around the green hills and farms of this area. You'll head to the community of La Pastora, and see the old country estate of the Quinta de Santa Rosa. There's also an old brick and tile factory here. There are farms here dedicated to cattle, sheep, goats, chicken and pigs – and you'll get to learn about this area and the traditions of farming here.
Doesn't sound like your average free walking tour, does it? Well, it's not. This is a super way to get in touch with the locals of Trinidad and learn more about the way of life in Cuba. The walking tour takes about 3 hours, and the walking is very gentle and slow, and it is FREE – you just need to tip your guide appropriately, but you do need to prebook your place on this walking tour of Santa Rosa.
Visit the Palacio Cantero in Trinidad – Museo Historico Municipal
This once beautiful but now crumbling palace was built in the early 1800s – there are large open rooms and Italian marble floors.  It's now a museum that covers the history of Trinidad and the area surrounding the city.    You'll get a flavor for the history of the area, the UNESCO World Heritage Valle de Los Ingenios, and learn about some of the slave trading that happened here and Cuba's independence wars.
The signage in the museum is quirky, to say the least.  Depending on the time of year that you visit and the time of day the guy who takes the money may or may not find you.  It's a great opportunity here though to take a look around the inside of the neoclassical palace.   The mansion was originally owned by the Borrell family and was then bought by a German sugar cane planter called Kanter (Cantero in Spanish), hence the name. If you're on our 7-day colonial Cuba itinerary, you'll want to come here!
Iglesia Parroquial de la Santisima Trinidad
This church, the Christ of the True Cross is the largest in Cuba and it comes with a legend.   The much revered 18th-century wooden statue in the church was headed to a church in Vera Cruz Mexico, en route from its origin in Spain.  Bad weather had the ship it was on landing in Casilda, near Trinidad instead.  The statue ended up staying here as the ship carried on.  The Senor de la Vera Cruz remains in the church today.  There are carved cedar and mahogany altars and vaulted ceilings in the church also.
Palacio Brunet – Trinidad's Museo Romantico
Housed in an early 19th-century colonial mansion that once belonged to the sugar baron, Conde de Brunet, you'll find the Museo Romantico. The museum is so named as the time it was owned by the Brunets (1830 – 1860) was known as the romantic period.  This museum contains many of the family possessions and treasures as well as items from other families of the time – there's porcelain, furniture, and artwork here and an interesting bathroom with a 1.5-ton marble bath!
Museum of Colonial Architecture, Trinidad's Museo de Arquitectura
Originally owned by the Sanches Iznaga family, this 18th-century mansion is now home to the Museum of Colonial Architecture in Trinidad.    The style of the period has been retained to some extent and you'll see architectural details such as doors, windows, grills, and a recreated bathroom.  You can also take a walking tour through Trinidad's historic streets to gain a wider perspective of the architecture of the city.
Drink a Canchanchara in Trinidad Cuba
You should make time to taste Trinidad's local cocktail while you're here (and they will make you an almost non-alcoholic one too if you ask nicely!  At Bar La Canchanchara you can taste the famous cocktail made from rum, honey, lemon, and aguardiente. The Canchanchara is one of Cuba's famous cocktails – and they will even make an alcohol-free version for you.
Eat Ice-cream In Trinidad Cuba
Dulce Crema is on the corner of Maceo and Simon Bulevar and is open between 1000 and 2200.  sit down and take a break from the hot sweaty streets and delight in the variety of flavors here.  You won't regret it!
What to do at night in Trinidad Cuba
The nightlife in Trinidad revolves, as in much of Cuba around dancing and cocktails.  The Casa de La Musica here is quite possibly the best on the island, although Santiago de Cuba's is pretty darned good too.  You can dance and drink the night away at a disco in a cave, or you can chill out and watch the world go by.  We recommend stopping by Bar La Canchanchara for a unique cocktail that originated here in Trinidad too.  (Check out our guide to Cuban cocktails here – and find out some of the histories of the island through her drinks!)
Dance at the Casa de La Musica in Trinidad Cuba
From 7 pm every night at Trinidad's Casa de la Musica you'll find live music and dancing.   And it's not just for the tourists, you'll find locals here too.  There's a cover charge for tourists and after that, it's free unless you want to buy beers or mojitos from the local bars here.
Grab a seat on the wide stairs that surround the outdoor Casa de La Music in Trinidad and listen to the music, watch the dancing or join in.
Discover the Disco La Ayala in Trinidad
Disco La Ayala or La Cueva (the Cave) in Trinidad is exactly what it says.  A disco in a cave.  It's a short walk uphill past the church in Trinidad's main square – it's along Calle Simon Bolivar to the Ermita de Nuestra Señora de la Candelaria de la Popa.
Ask for Ayala and you'll get directed and no doubt see the increase in impromptu bars set up in the front of locals' houses – cocktails while you walk!
Trinidad's Disco La Ayala is indeed inside a cave.  It's open 7 days a week, but not until around midnight, although 0100 is more likely to have more of a vibe.  There are very few tables here, but most people will be dancing.  There's a cover charge to enter, which gives you one drink.   You can't take bags into Disco La Ayala, but there's a bag check at the door (leave your valuables at home).   You'll find 3 different bars and 5 dance floors at the disco La Ayala.  At 0100 there's usually a show with dancers and entertainers.
Food and Drinks to try in Trinidad
The best places to eat in Trinidad are the small ones.  Be sure to get breakfast at your Casa  Particular, it sets you up for the day.  You'll also want to take advantage of the proximity of the Caribbean Sea and check out some seafood – head to La Boca for fabulous lobster.  Trinidad is also renowned for a local cocktail, the Canchanchara, and ice cream too!
Ice-cream in Trinidad
Dulce de Crema is a small spot open from 1000 until 2200 in the center of Trinidad, on the corner of Simon Bulevar and Maceo.  It's a delightful place with seats and gorgeous tasty ice cream.
Eat Lobster in La Boca near Trinidad
Cuba runs a lot on the black market, and some of the best food you'll get will be in the most surprising of places.  Your casa particular is likely to provide great food, and if you want to try seafood for not too much money there's no better place.  The lobsters in La Boca are not only cheap (US$15) but massive.  Check out the spots to eat here for a great dinner, fabulous prices, and some great stories from the owners. For a fabulous place to stay in La Boca (so much quieter than Trinidad, book this great casa particular.
Drink the Canchanchara Cocktail in Trinidad
There are a few cocktails that tell the story of Cuba through drinks (more here) and one of those is the Canchanchara, which has its home here near the sugar plantations of Trinidad.  There is, in fact, an entire bar dedicated to this drink.  Visit Bar La Canchanchara to try out this treat.  You'll drink it in a special ceramic cup and I promise it's different from all the mojitos and daiquiris that you've tried so far.
Key Information About Visiting Trinidad, Cuba
Trinidad, Cuba is more than worth the journey to get here – but don't be fooled by what looks like a short distance on a map from Varadero or Havana.  In Cuba, the most important element is the travel time as Cuban transportation and Cuban roads are different from the rest of the world  Here's the key information that you need to plan a trip to Trinidad Cuba – from where the city is, how to get to Trinidad, where to stay and where you'll find internet access in this glorious city.
Where is Trinidad Cuba?
The UNESCO World Heritage city of Trinidad, Cuba is located in the center of the island of Cuba.  It is easy to reach Trinidad (in Cuban terms).  Here are the travel time and distances from Trinidad to some of the major cities of Cuba.
Havana to Trinidad distance: 315 km (195 miles); Trinidad from Havana travel time; 4 hours driving, 7 hours bus travel.
Varadero to Trinidad distance: 265 km (164 miles); Trinidad from Varadero travel time; 4 hours driving, 6.5 hours bus travel – our guide on how to go from Varadero to Trinidad is here.
Vinales to Trinidad distance: 500 km (310 miles); Trinidad from Vinales travel time; 8 hours driving, 9.5 hours bus travel.
Cienfuegos to Trinidad distance: 120km (74 miles); Trinidad from Cienfuegos travel time; 90 minutes, 1.5 hours bus travel.
Santiago de Cuba to Trinidad distance: 590 km (367 miles); Trinidad from Santiago de Cuba travel time 9 hours, 12 hours bus travel.
How to get to Trinidad
Trinidad, as one of the main tourist areas of Cuba, is easy to reach.  You can get to Trinidad by bus, or taxi or you can rent a car. There's more on Cuban Transport options in our guide to Cuban Transport here.
 How to get to Trinidad by Bus
Trinidad is on a main Viazul Bus route from Havana, Varadero, Vinales, Cienfuegos, and Santiago de Cuba.  Viazul is the main tourist bus company in Cuba.  You can read all about how to use the Viazul bus system in Cuba in our guide here.
Booking Viazul buses online is easy – although online availability is often hard to come by. 
The Viazul bus station is in the center of Trinidad and it is easy to get to.  The Bus timetables to Trinidad Cuba are as follows:  The new 2022 times for the Viazul buses to Trinidad are in our guide to the Viazul bus network, which you can download here.
How to Get to Trinidad by Taxi Colectivo
Usually, a shared taxi will cost the same price per person as the Viazul bus plus maybe 10—15%.  If you have a group you can always ask at your Casa Particular, or at a bus station how much it will cost to go directly to Trinidad by taxi.    Remember to factor in that you will have to arrange to get to the Viazul bus station in the town that you are leaving from.  You will have to pay cash in Cuban pesos for this.
Alternatively, you can book a private taxi or a shared transfer – by booking with our partners in Cuba. This comes with the benefit that you don't need to speak any Spanish to do this and you can pay with your card online, with no need for cash.
How to Get to Trinidad by Rental Car.
You are extremely unlikely to pick up a rental car in Cuba without pre-booking.  Renting a car in Cuba is likely to cost between US$50 and US$90 a day including insurance.    You should rent several weeks, if not months in advance.
Rental cars in Cuba are usually in good condition, but the roads are not, especially the further down the island you go.  Also, be aware that driving at night is much more dangerous than in other countries, fields are not always fenced and animals tend to roam.
Where to get Internet in Trinidad Cuba
There are several public Wi-Fi spots in Trinidad Cuba, the most popular are the steps of the Casa de La Music and you'll also find Wi-Fi in Trinidad's Plaza Mayor.
For more information on how to get on the internet in Trinidad and the rest of Cuba, read our extensive guide to internet access in Cuba here
Where to Stay in Trinidad
The BEST type of place to stay in Cuba is in a Casa Particular.  These private homestays are similar to a bed and breakfast, some are more luxurious than others.  All stays in Casa Particulars benefit the local community.  You'll get to stay in a Cuban's house, most casa particular stays have private rooms, private bathrooms, air conditioning, hot showers, and usually the best food in town.  Food is usually an extra cost.
Stay in a Casa Particular in Trinidad Cuba
It is easy to prebook and prepay for your casa particular in Trinidad Cuba, using Hostelworld – or Homestay, and don't worry they cover private rooms and ensuites as well as dorm rooms.   Here are some of our top choices of where to stay in Trinidad Cuba.
Casa Colonial Torrado 1830 is a stunning casa particular in the center of Trinidad.  The house was built in 1830 and has been remodeled several times, but still retains the Cuban architecture of the 19th century.   Rooms here are opulent with air-conditioning, fabulous views from the terraces, and glorious courtyards.  Stay here, you won't regret it.  Take a look at the amazing photos and reserve a room while you can!
Hostal Omara – close to the center of Trinidad, with lovely design and two fabulous terraces where you can watch the city go by. Rooms all have private bathrooms, hot and cold water 24 hours, air conditioning, WiFi, TV and Minibar Check prices, book and pay for this Trinidad Casa Particular online here.
If you don't prebook your accommodation in Trinidad Cuba, then there are PLENTY of jiniteros (hustlers) who will throng you as you get off a bus or out of a taxi and want to take you to a local Casa Particular.
Hotels in Trinidad Cuba
We generally don't recommend hotels in Cuba.  They tend to be government-run, and service levels are lacking, to say the least.  
Trinidad is, however, a busy place and if you'd like to get away from the city and all her touristy qualities and get more of a local vibe we recommend heading to La Boca, just 5 kilometers from Trinidad.  It's on the coast of Cuba and there is a variety of Casa Particulars here to stay in.  We stay just over the road that sees just 6 cars a day tops, from the beach, where it was locals only.  We ate breakfast on the terrace of our Casa, dined on black market lobster in one of the small restaurants in town, and paid more like local rates for everything.
Stay in La Boca, near Trinidad
Stay in La Boca near Trinidad for a peaceful time, with swimming and snorkeling right across the street.  You'll find local pop-up bars, great food, and a lot of peace and quiet here.  Our recommendations for where to stay in La Boca are:
Hostal Cuba – just 30 metres from the Caribbean Sea, this is a lovely place to stay. We love La Boca for its peace and quiet. There are several rooms available here – a luxurious and comfortable air conditioned double room, you'll have your own private bathroom, safe deposit box, TV, minibar, night reading lamps, fan, hair dryer, and hot water 24 hours. Towels, bedding and amenities will be for free. There's also a sea view Superior apartment is in a first level with terrace, it has a kitchen, the room has one king size bed and one single. private bathroom, silent AC (split), fan, TV, minibar, hairdryer, free amenities, safe box and reading lamps. Check room and prices and book and prepay for your Casa Particular here.
Where to go After Trinidad, Cuba
You can go from Trinidad to Santiago de Cuba – for more cultural immersion in Cuba, head to the bustling vibe of Havana or also take a direct bus to the beaches of Varadero, where white sandy beaches await you.  These are the easiest places to visit after spending time in Trinidad Cuba. If you're staying longer in Trinidad and want day trips, then we wrote about some of the best day trips from Trinidad here.
Essential Resources for Exploring Cuba
Final Words on the Best Things to Do in Trinidad, Cuba
The gorgeous crumbling architecture of Trinidad and her pretty cobbled streets are a superb place to visit on a trip to Cuba.  The city is a great place to base yourself to visit the beaches of Playa Ancon, or the more local Playa la Boca.    This small and compact city is photogenic wherever you turn and bursts with life and a faded elegance.  We hope you'll enjoy exploring Trinidad, and also get out of the city and see some of the surrounding countryside and coastline too!
Cuba's Best is a participant in the Amazon Services LLC Associates Program, an affiliate advertising program designed to provide a means for sites to earn advertising fees by advertising and linking to amazon.com, amazon.co.uk, amazon.ca. Amazon and the Amazon logo are trademarks of Amazon.com, Inc. or its affiliates.