Welcome to our Revolutionary Cuba 7 day itinerary. This itinerary follows the major attractions and sites of the Cuban Revolutions and uses the Viazul Bus service as the primary method of transport. This itinerary includes the buses to catch, the times, and the best places to stay that will have you making the best of your time exploring Cuba. We aim to avoid the need to drag bags long distances, and to avoid spending money on unnecessary taxis and transfers. This 7 day Cuba itinerary focuses on Cuba's Revolutionary history and takes you to all of Cuba's Revolutionary highlights.
THIS POST MAY CONTAIN COMPENSATED AND AFFILIATE LINKS. MORE INFORMATION IN OUR DISCLAIMER
Our Revolution focused 7 Day Cuba Itinerary takes you to all the key sites in Cuba that are focused on the country's revolutionary history. And our Cuba itineraries are unique, in that we use the Viazul Buses as the primary method of transport. For this tour of Cuban Revolutionary sites, we've detailed the major attractions, and recommend where to stay in each of the cities and areas that you'll visit so that you can spend more time exploring Cuba. There are also suggestions on how to extend the itinerary if you have more time.
7 Day Cuba Itinerary – Revolutionary Cuba
We know that there are other attractions and places to visit in Cuba that have links to the Revolutions, but this 7 day Cuba itinerary focuses on the major Cuban Revolution attractions that you can get to using the Viazul Bus as your primary mode of transport and tries to ensure that you don't spend most of your vacation sitting on a bus but seeing and experiencing the best Cuban Revolution attractions that Cuba has to offer.
7 Day Cuba Itinerary (Revolutionary Cuba) Key Information
You'll need a copy of the Viazul Bus timetables and prices to plan and execute this itinerary if you don't have that yet, click here and I'll send it to you. You'll need to make all your own bus bookings online (or in-person when you arrive in Cuba) with Viazul directly.
If there's a journey on this route that Viazul doesn't have a service for, then we'll detail it as we go through the itinerary and will make a recommendation of alternative transport options.
Arriving in Havana
This itinerary assumes that you'll be arriving at Jose Marti (Havana) international airport.
Read about arriving at Havana airport here
Get a (required) Cuban Tourist Card here
Make sure you've got medical insurance (another requirement).
We recommend using Visitor's Coverage for insurance – and you can also buy insurance for Cuba from Civitatis. Or if you want to read about all the details of required Cuba travel insurance our guide is here.
The Viazul Bus station is about 3.6km (2.2 miles) from Old Havana, which is where we recommend you stay to maximize the time that you'll spend in Havana on this Revolutionary itinerary of Cuba.
Arrange your internet access in Cuba
The internet in Cuba is different from the rest of the world. Read our guide about it here, but also consider pre-ordering a Cuban Tourist SIM for easier access while you're in Cuba. Read about Cuban Tourist Sims here or TLDR: Pre-order one and pick it up at Havana Airport on arrival.
If you plan on using the internet in Cuba we recommend using a Virtual Private Network. Don't know what that is? Read our guide here. Or just buy the best VPN for Cuba here (this coupon will give you 3 months for free).
Money and Paying in Cuba
You'll need to plan how you'll pay for things in Cuba too. Read our guide to Cuban Currency here.
Booking Transport for your Revolutionary Cuba Itinerary
You'll visit FIVE different towns and cities on this whistlestop Cuban revolutionary itinerary. The majority of the transport between the 5 different locations is on the Viazul Bus, but you will need to take a colectivo or private transfer for one short route.
If your plane lands at a time that can meet one of the Viazul Buses from Havana Airport to Havana city, then you can also book the Viazul Bus into Havana. Otherwise, we recommend pre-booking a transfer. You will also need to book your Viazul Buses as soon as you confirm the dates of your vacation to ensure you follow the itinerary. Don't forget to read our guide to the Viazul Bus Service so you know what to expect!
Personal Security in Cuba
Cuba is one of the safest places to travel. But petty theft does happen. Especially if you openly display valuables and don't look after them. Take all the usual precautions that you would anywhere else. Lock your valuables in your accommodation in a portable travel safe, don't leave valuables lying around, and don't openly display wads of cash and you'll be fine.
Book Your Havana Accommodation for this 7 day Cuba Itinerary
As most of what you'll be seeing on this Revolutionary Cuba itinerary is in Old Havana (Habana Vieja) we recommend staying in Old Havana. Our recommendations for where to stay in Havana Vieja are:
The Casa Buenos Aires is in a superb location in the center of Old Havana, just one block from the Museum of the Revolution, making it easy to walk all the sights of Old Havana.  There are three private, ensuite rooms here, all with a private bathroom and a private balcony.  Breakfast and laundry are available here.  There is internet access here, a glorious garden, and a terrace with a bar where you can enjoy a fabulous Cuban cocktail.  See photos of the Casa Buenos Aires here.
The gorgeous Casa Giraldilla is a restored colonial house dating from the 1920s and has high ceilings and a glorious balcony for people-watching.   Carmen and Carlos speak English, Spanish, and a little French.   All rooms are ensuite and have either a window or a balcony onto the street.  There are two doubles and a twin room here.  Breakfast and internet access are available here.  There is a glorious terrace on the roof available to all guests.  Book a room here.
The Casa de La Plaza de Cristo is in a building that dates from 1903, an 8-meter-long balcony gives all guests a magnificent view of the Plaza de Cristo.  It is a fabulous location to stay in Old Havana.  Rooms here are bright and airy, simply decorated, and have air conditioning.  Rooms are ensuite and breakfast is available for an additional cost.  You can see the location of this great old Havana casa particular here.
If you prefer to stay close to the Viazul Bus station and stretch your legs (it's about a 35-40 minutes walk to Old Havana), then our next recommendation is very close to the Viazul Bus Station.
Casa Caribbean Blue 1927 is located in a glorious Neo-classical property just a short walk to the Havana Viazul Bus Station in the heart of Vedado.  It's just 10-minute walk to the Malecon and the Hotel Nacional.  There's a garden and a lovely terrace here, plus a washing machine.  All rooms at Casa Caribbean Blue are fresh with plenty of natural light and presented in a traditional Cuban style.   The host here, Noel, speaks Spanish, French, and English.    Read more reviews here.
Revolutionary Cuba Day 1 of 7 day Cuba Itinerary:  Havana
The casa particulars that I recommend staying at in Havana are all located in Old Havana – apart from one, which is close to the Viazul Bus station – so you'll have more time to enjoy the city. One of the benefits of staying in a Casa Particular is breakfast. You'll get the best! And you'll save a whole lot of time by breakfasting at home. And you'll get local knowledge. Your casa particular owner will be your best source of local knowledge in Cuba.
Take a Revolution Focused Walking Tour of Havana
The best way to learn about the history of the country is from a local guide. And to see it. And that's why I recommend you take a walking tour of Havana. This specific walking tour is focused on the Cuban Revolution.
The walking tours run in Havana (and other cities in Cuba) are run by locals.
This walking tour with a Cuban Revolution Focus starts at the Jose Marti statue in Central Park. You'll learn all about rationing in Cuba, the relationship between the Catholic Church and Cuba, and "Operation Peter Pan". There's a visit to the Museum of the Revolution (you'll be back there tomorrow too), and the Spanish Embassy, as well as a primary school, to learn about education in Cuba since the revolution. After stopping by El Capitolo – the National Capitol Building you'll take a bus with your guide to the Plaza de La Revolucion and its iconic status and images. This is a superb way to get an introduction to revolutionary Cuba and you'll have the opportunity to ask your guide all sorts of questions, including where you should go for lunch! You do need to book and reserve a place here.
Lunch.
You'll be finishing your tour at the Plaza de la Revolution, and so you'll want to grab some lunch nearby (the tour finishes at 1 pm). In the absence of a recommendation from your tour guide, I'd head for El Gusto, where they do a fabulous Ropa Vieja and it is just a short walk from Plaza de la Revolution. All their dishes here are filling and cheap.
So far you've explored the city on foot, and just the story of the Revolution – now it's time to take to the road for a while at least because you simply can't come to Havana and not see the city and the Malecon in a vintage car.
Take a Classic Car Tour of Havana
This is one of the best ways to see Havana Cuba. You'll find classic cars parked up at the Plaza de la Revolution. Normally tours start downtown, near the Hotel Inglaterra, but you can mix it up and start from here and end up back in Old Havana. You can also pre-book a classic car tour here (you'll pay online, which reduces the amount of cash you need to take with you).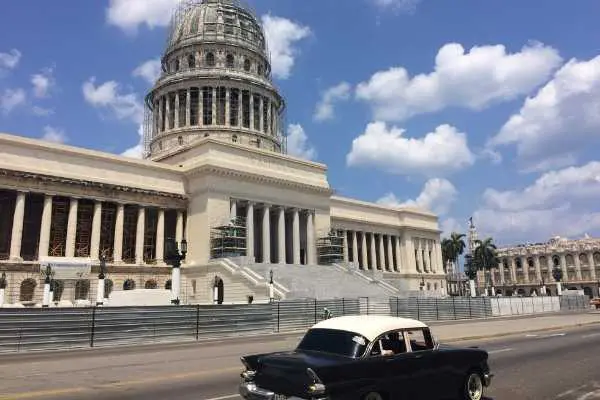 You'll need to negotiate, but the usual rate is about US$70 an hour. They have a standard route that they take, (there's more on what to expect on a classic car tour here). You'll need to pay cash, alternatively, you can prebook and prepay a vintage car tour in Havana here.
You'll want to make sure that you stop by the Hotel Nacional on your tour.
Head to the Hotel Nacional
The hotel has a somewhat storied past, since its opening in 1930, its welcomed leading politicians, mobsters, and actors. Winston Churchill, Frank Sinatra, Jean-Paul Sartre, Marlon Brando, and Alexander Fleming have all been here. It also had a bloody revolutionary past. In September 1933 there was a bloody siege here, Cuban army members, loyal to Fulgencio Batista's coup attacked the hotel in what was known as the Battle of the Hotel Nacional of Cuba. Following the 1959 Revolution, the hotel was nationalized and neglected, and it's now a shadow of its former self. However, it's a famous place for mojitos on the terrace. Stop if you want to, or head back into the city in your classic car.
Taste Freedom in Old Havana – Cuba Libre
You can track a lot of the history of Cuba through one of the products that is synonymous with the country. Rum and Cocktails. And the cocktail that I recommend you try is the Cuba Libre.
The origins of the Cuba Libre date back to the American occupation of Cuba following the Spanish-American war. Legends have it that a Cuba Libre was first requested by Captain Russell when soldiers were celebrating the end of the war at the American Bar in Havana. He asked, the tale goes, for a rum, coke, and lime, as chants rose amongst the Americans and Cuba to celebrate a free Cuba – "Por Cuba Libre". (Our guide to Cuban cocktails and history is here)
You can pick your bar of choice in Old Havana, or head on a cocktail tour and get the history of ALL the Cuban Cocktails in some of the most historic bars in Havana.
For dinner, try El del Frente in Old Havana, or La Guarida in Centro Havana at 418 Concordia, La Habana, Cuba.
And, with that we're at the end of your first day on this 7 day Cuba Itinerary, so it's time to head back to your Casa Particular for a good night's sleep, you've got a packed day and a lot of travel to do tomorrow! Sleep Tight now!
Revolutionary Cuba Day 2 of 7 day Cuba Itinerary: Havana + Bus to Santiago de Cuba
You've either for a half-day or another full day in Havana today, before heading to the Viazul Bus station for a bus to Santiago de Cuba, the next stop on your Revolutionary Cuba tour.
Your bus leaves the Havana Viazul Bus station at 23:10 and you'll need to be at the bus station at least an hour before to check in. There are two alternative buses that leave earlier in the day if you prefer. Here are the times of the buses to Santiago de Cuba from Havana, so you can decide which to take.
The bus costs 56 EUROS and you can book your tickets online with Viazul. Make sure you read our guide to the Viazul Bus carefully, as you'll need to check-in personally at the Viazul Bus station at least an hour before your scheduled departure.
I've based this itinerary on you taking the 23:10 bus, so you'll need to alter it appropriately.
Havana Santiago de Cuba
15:10 08:25
16:40 12:55
23:10 14:20
After breakfast on day 2 of your 7 day Cuba Itinerary, you're going to head back to the Museum of the Revolution for a longer, at leisure exploration.
Explore the Museum of the Revolution
The Revolution Museum is located in a glorious 1920s building that was once the Cuban Presidential Palace. The Museum of the Revolution in Havana covers the roots of the revolution in Cuba all the way through to 1959 and beyond, exploring how things have changed since 1959. You'll also find the Granma yacht here. This historic artifact brought 82 guerrilla fighters from Mexico to Cuba in 1956, where they landed at Playa Las Coloradas after seven days at sea. There are also blood-stained and bullet-ridden uniforms on display. Most information is provided in Spanish and English translations are limited, but there are lots of displays and photographs.
Museum of the Revolution Opening Time: 10:00 to 17:00.
Address of Museum of the Revolution: Calle Refugio nº1, La Habana – Cuba.
Entrance Fee for Museum of the Revolution: 10 Cuban Pesos
If you've decided to get the early bus that day, then you'll need to grab a quick lunch in Old Havana before heading to the bus station for your departure. If you're staying with the later departure, then I recommend that you head either to the Museum of the City of Havana or the Museum of Rum. Your choice!
Museo de la Ciudad (Museum of the City of Havana)
The Museum of the City of Havana is found in the Plaza de Armas. You can't miss it as it occupies the entire west side of the square. El Museo de la Ciudad was once the Spanish government headquarters in Cuba. It was also home to the Viceroys that ruled Cuba. After 1898 and Cuban independence it became the US military administration. Today this museum houses the history of Havana. And it's a great way to see the development of the city from before the Revolution and after it. Of specific interest is a rather interesting exhibition of photographs of important moments in Havana's history
Museum of the City of Havana Opening Time/Tour Time: From Tuesday to Saturday from 10:30 to 17:00. Sunday from 9:00 to 13:00.
Address of Museum of the City of Havana: Calle Tacón (between Obispo and O'Reilly), Plaza de Armas, La Habana Vieja, Cuba.
Entrance Fee for Museum of the City of Havana: US$3
The Rum Museum
The Havana Club Rum Museum in Havana is a true journey into the Cuban roots of rum. Not only will you find out about the rum-making process, from freshly cut sugar cane to a surprising scale model factory; but you'll also learn about how the distillery and aging warehouses worked. There's also a tasting involved and some fabulous Cuban cocktails to try here too.
Havana Club Rum Museum Opening Times: Monday to Friday 9 am – 430pm
Address of Havana Club Rum Museum: Avenida del Puerto 262 esq Sol, Havana Vieja, La Habana
Entrance Fee for Havana Club Rum Museum: Experiences are available here, prices vary
Website for Havana Club Rum Museum: https://www.havanaclubmuseum.com/
Explore how the Cuban Revolution Affected Food and the Cuisine of Cuba
The Cuban Revolution seriously affected the availability of certain foodstuffs in Cuba and one of the great ways of understanding that more is to see the food generally available. And to taste it. This fabulous street food tour, lets you taste typical local fried foods, like chiviricos and churros, and the traditional Cuban pork sandwich, all washed down with a refreshing cup of strawberry syrup-flavored crushed ice This is a great way to understand and explore the inventiveness of the Cuban people when it comes to food. There's the typical Cuban sugarcane drink known as guarapo, squeezed straight from the cane – and either a visit to a traditional grocery store or a stop off at Coppelia! Reserve a place on the Havana Street Food Tour here!
At the end of your street food tour, you'll want to chill out for a while and you'll need to be at the Viazul Bus station at least an hour before your bus to Santiago de Cuba departs. Buses from Havana to Santiago de Cuba do make rest stops and also food stops too, but I recommend taking water with you. And whatever you need to get some sleep on the bus!
Safe travels!
Revolutionary Cuba Day 3 of 7 day Cuba Itinerary: Santiago de Cuba
Good Morning! Or should I say Good Afternoon? It depends on which bus you took as to what time you arrived in Santiago de Cuba.
The Viazul Bus station in Santiago de Cuba is about 800 meters (10-15 minutes walk) from the center of Santiago de Cuba. You'll arrive in Santiago de Cuba and your first stop will be checking in at your Casa Particular. So you'll want to head on over there and book your room now!
Where to stay in Santiago de Cuba on your 7 day Revolutionary Cuban Itinerary
Colonial House Grisel in Santiago de Cuba is in a great location in the center of the city of Santiago de Cuba.  This colonial-style house has private ensuite rooms with free WiFi a patio and a terrace.  Grisel provides an excellent breakfast and also laundry service.  The casa particular is located very close to Cespedes Park.  You can check rates and availability here.
Isabel and Gerado's Homestay in Santiago de Cuba is in a great location for the Viazul Bus station – and has private en suite rooms with air conditioning, internet access, and a garden.  It's just a 10 minute walk from both the bus station and downtown Santiago.  They get rave reviews for breakfasts and can also provide packed lunches. Check availability here.
If you decided to take the 2310 bus and arrive in Santiago at 0825, then I recommend that you contact your casa particular ahead of time and ask if it's possible to have breakfast when you arrive. Breakfasts are generally an additional cost at casa particulars, but well worth it. Then you'll be set up for your day of exploring Revolutionary Santiago de Cuba!
There are two ways to explore the revolutionary history here in Santiago de Cuba. The easiest way is to join a half-day tour that is specifically focused on the Cuban Revolution. So I'll discuss that first and then explain how you can discover Santiago's revolutionary history independently.
Take a Cuban Revolution Tour in Santiago de Cuba
This tour begins at 10 at the Casa Granda Hotel in Céspedes Park. And you have a treat in store, your transport for the first part of the Santiago de Cuba revolutionary tour is in a classic vintage car. The first stop is the Palace of the Provincial Government, the current location of the Emilio Bacardi Museum. Then you'll head to Moncada Barracks (read below for more information on this), where you'll visit the 26th July History Museum. You can read more about this tour and book your place here.
After you're finished at the museum you'll take a horse-drawn carriage to the Santa Ifigenia cemetery. It's here that you'll find the tomb of Fidel Castro and the mausoleum of José Martí. The vintage classic car will take you back to the center of Santiago de Cuba.
This tour is a great half-day option to see the sights with an English-speaking guide. You can reserve a place here.
Now, read on for more information on the sites and how to visit them independently.
Moncada Baracks – Cuartel Moncada
During the 20th century, the Cuartel Moncada, or the Moncada Barracks was a military headquarters. It was chosen by the revolutionaries on the 26th July 1953 to begin a fight against Fulgencio Batista's regime. This particular uprising failed, but it was the beginning of the Cuban Revolution. The barracks were most recently used in a military conflict on 8th January 1959, when Raul Castro and the fighters of the 26th July movement took it for the Cuban revolutionaries. There's more on the Moncada Barracks here.
There are now eight rooms that comprise the 26th July History Museum which is co-hosted here with a primary school. You can see Castro's rifle, clothing from fallen soldiers as well as photos of those who died here The bullet holes in the walls of the building are original.
Cuartel Moncada Opening Time: Check locally for opening times.
Address of Cuartel Moncada: Avenida Moncada, Santiago de Cuba
Entrance Fee for Cuartel Moncada: US$2 + US$5 for photos
Plaza de la Revolucion, Santiago de Cuba
It's a bit of a hike to get out here (it's at Avenida de las Américas con Calle 9. Santiago de Cuba.), but you are here on a Revolutionary itinerary, so, you should come here. The Plaza de la Revolucion was opened in 1991. You'll likely find it on a map as Monumental Complex Antonio Maceo. There are separate sections here – those dedicated to monuments, a sculptural area, and the eternal flame. There's also a museum and exhibition area. The most striking area to see is the equestrian figure of Major General Antonio Maceo a collection of 23 machetes, representing the fighting spirit of the Cuban people. Inside, the museum and exhibition there are documents and images memorializing Antonio Maceo.
Address of the Plaza de la Revolucion: Avenida de las Américas con Calle 9. Santiago de Cuba.
Plaza de Marte, Santiago de Cuba
This area, the symbolic center of Santiago de Cubas was previously used as a military training camp and was also a meeting place during the Revolution. There's a column in the center of the park, topped with a "Phrygian Cap" – also known as a liberty cap (more here) – the type of hat associated generally with revolutionaries worldwide. It's a great people-watching square now, but you'll also see sculptures of the heroes of the city – Marti and Cienfuegos.
There are a variety of restaurants around the square for a late lunch. Or you can head to St Pauli Restaurant and Bar on José Antonio Saco, Santiago de Cuba, Cuba.
We recommend a chill-out for the rest of the afternoon. If you like craft beers, then head down to the Cerverceria Puerto del Rey on the waterfront. It's a chilled-out spot and they do some great craft beers and (sometimes) food.
For your evening in Santiago de Cuba, grab some dinner, and then don't miss the Casa de la Trova.
Casa de la Trova, Santiago de Cuba
Calle Heredia right next to the Cathedral of Santiago de Cuba has been famous for more than 50 years for being the home of the Casa de La Trova in Santiago. Some of Cuba's best-known musicians started their careers here and you'll see a host of photos on the wall.
Revolutionary Cuba day 4 of 7 day Cuba Itinerary: Santiago de Cuba + Bus to Santa Clara
Today you have two stops in Santiago de Cuba, and then a bus in the evening to Santa Clara. I'd recommend heading first to the Santa Ifigenia Cemetery.
Visit the "Cementario Santa Ifigenia" in Santiago de Cuba
This famous cemetery in Santiago is the resting place of Jose Marti, the Cuban patriot who played a pivotal role in Cuba's War of Independence from Spain. A military escort protects the tomb 24/7, replacing the officer on duty every half hour. The changing of guards is a lovely ceremony to watch and when you come to this cemetery you should make your way here to see the ceremony.
The other key locations to head to in the cemetery here in Santiago de Cuba are
Mariana Grajales: mother of Antonio Maceo, a Cuban War of Independence, who fought with his brothers to free Cuban from Spanish influence. Such was the support that Grajales had for the revolution, that when she heard that two of her sons had died fighting the Spanish, she answered that she still had more sons to give for the revolution.
Carlos Manuel de Cespedes: First President of Cuba in 1868. He was previously a plantation owner who freed his slaves and made the declaration of Cuban independence in 1868, starting the 10 years war.
Tomas Estrada Palma: President of Cuba from May 1902 until September 1906 as well as the president of the Cuban Republican in Arms during the 10 years war.
Fidel Castro: Revolutionary, politician, leader, dictator. Castro was the leader of Cuba from 1959 to 2008. He was prime minister from 1959 to 1976 and president of Cuba from 1976 to 2008.
As you enter the cemetery there's a map displaying the location of the tombs of these key figures (there's a photo of it below too).
Cementario Santa Ifigenia Address: Av Crombet
Opening Hours of Cementario Santa Ifigenia: 0800 – 1800
Entrance Price of Cementario Santa Ifigenia: US$3
Museo Lucha Clandestino, Santiago de Cuba
The Museo Lucha Clandestino, or the Clandestine Fight Museum is located in the Loma del Intendente Hill. This pretty building was previously a police station that was attacked by the revolutionaries' 26th July Movement in 1956 to distract their attention from the landing of Castro and his soldiers in Granma.
There are four rooms in this sleepy little museum (which closes if it rains) and they contain items related to the Cuban Revolution and the role that Santiago de Cuba played in it. You'll specifically find the stories of Frank Pais and Celia Sanchez.
Museo Lucha Clandestino Address: Calle General Jesús Rabí, 1. El Tívoli. Santiago de Cuba.
Opening Hours of Museo Lucha Clandestino: From Tuesday to Saturday 9 am – 5 pm
Entrance Price of Museo Lucha Clandestino: US$1
Plaque to Frank Pais in Callejón del Muro, Santiago de Cuba
Frank Pais was a Santiago de Cuba-born Cuban revolutionary leader during the Batista dictatorship. He is best remembered as being the leader of the 1956 Santiago uprising that coincided with the landing of Fidel Castro on 2 December on the boat Granma. (You saw the Granma in the Museum of the Revolution in Havana). Pais was a guerrilla fighter and member of Acción Nacional Revolucionaria which merged with Castro's 26th July Movement. While Pais' uprising was quelled, he did escape capture and survived for a year before being betrayed. He was taken away along with Raúl Pujol by police officers, who then shot them in the back of the head in Callejon del Muro on 30 July 1957. His role in leading the Santiago de Cuba guerrillas was then taken over by Ernesto "Che" Guevara.
There is a plaque to Pais in the street where he was shot. He had 36 gunshot wounds and was 22 years old.
This is a whistlestop tour of Santiago de Cuba, to visit the primary sites related to the Cuban Revolution. If you want to extend your stay, then take a look at some of the top things to do in Santiago de Cuba here.
Take the Viazul Bus from Santiago de Cuba to Santa Clara
At the end of day 4, take the Viazul bus at 20:00 to Santa Clara. Note that you will need to check-in at least an hour before the bus departs, so have an early dinner. The bus arrives in Santa Clara at 08:30. Two other buses leave Santiago de Cuba for Santa Clara, so you can alter this itinerary to take account of that.
The bus costs 38 EUROS and you can book your tickets online with Viazul. Make sure you read our guide to the Viazul Bus carefully, as you'll need to check-in personally at the Viazul Bus station at least an hour before your scheduled departure.
I've based this itinerary on you taking the 20:00 bus, as it arrives early enough in Santa Clara to see the revolutionary sites, but not so early that you'll be there in the dark! You'll need to alter it appropriately if you decide to take a bus at a different time.
Santiago de Cuba Santa Clara
15:00 04:00
20:00 08:30
22:00 08:55
Revolutionary Cuba Day 5 of 7 day Cuba Itinerary: Santa Clara + Transfer to Playa Giron
Today you're going to explore Santa Clara, most famous for its connections with Che Guevara and trains. And at the end of the day, you'll be taking a colectivo, or booking a transfer from here to Playa Giron. There are no Viazul buses that run from Santa Clara to Playa Giron. The trip is about 70 kilometers (44 miles) and should take around 90-100 minutes.
The best place to pick up a colectivo is at the Viazul Bus station, so I advise leaving your bags there. You'll need to pay a small fee. You may also be able to pick up a taxi or colectivo in the center of Santa Clara, but the sites that you want to see are a little dispersed, so I recommend the bags stay at the bus station.
The walking route between the sites in Santa Clara – from the bus station and back to the bus station is about 5.5 miles (9km). It is an easy flat route. But if you don't want to walk, then I recommend negotiating with a colectivo driver to take you on the route, wait for you and then take you to Playa Giron at the end of the day.
In Santa Clara, you're going to see
The Tren Blindado
The Che Guevara Mausoleum
First, though, you'll want some breakfast. You'll have the most choice by heading towards your first location, the Tren Blindado. You'll find cafes along Indepencia or Marti on the way there. It's a 30-minute walk to the Tren Blindado and you'll find the first places to eat after about 15 minutes.
Take a free Santa Clara Walking Tour
Now, join a FREE Walking tour of Santa Clara which – lasting for 2.5 hours will take you to the Armored Train Monument AND the Che Guevara Mausoleum. It's a GREAT way to see the city and understand things from a Cuban perspective. This is a free walking tour. It starts at 9:30 am and finishes at noon. You tip the guide in lieu of payment. And while, yes, it is free, you do need to reserve your place – do that here.
Visit the Armored Train Monument (Monumento a la Toma del Tren Blindado)
The monument of the Armoured Train in Santa Clara – Toma del Tren Blindado Monument – commemorates an event in the Battle of Santa Clara in December 1958, where revolutionaries led by Ernesto Che Guevara used a bulldozer and homemade Molotov cocktails to derail an armored train. Its success led to a decisive victory for the revolutionaries, and the city was captured within 12 hours, leading to the end of the Batista dictatorship.
Toma del Tren Blindado Address: Carretera a Camajuaní entre Puente la Cruz y línea del ferrocarril, Santa Clara, Cuba.
Opening Hours of Toma del Tren Blindado: Mondays through Saturdays from 8:30 am to 5:30 pm.
Entrance Price of Toma del Tren Blindado: US$1
Visit the Che Guevara Mausoleum
Santa Clara is known as "Che's City." Walking along the streets for any period of time will tell you this. You'll find statues and murals devoted to Che Guevara, the Argentine rebel who rose to prominence as one of the leaders of the 1950s Cuban revolution. You'll find this quite close to the Viazul Bus station in Santa Clara, some two kilometers west of Vidal Park, Santa Clara in Plaza Che Guevara". You can easily walk here from downtown in around 30 minutes.
The mausoleum contains the remains of Ernesto "Che" Guevara and twenty-nine of his fellow combatants who were killed in 1967 the attempts Guevara made to instigate an armed uprising in Bolivia. There's more about what to see at the mausoleum and museum in our guide to Santa Clara here. Santa Clara was chosen as his final resting place as a remembrance of his troops taking the city during the Battle of Santa Clara on 31 December 1958. This victory led to the then Cuban dictator, Fulgencio Batista escaping to exile.
The museum and memorial dedicated to Che Guevara are both free. There is a luggage check area because no bags or cameras are permitted inside.
Che Guevara Mausoleum and Museum Address: Avenida de los Desfiles, Santa Clara, Cuba.
Opening Hours of Che Guevara Mausoleum and Museum: Tuesdays through Sundays from 9:00 am to 5:00 pm.
Entrance Price of Che Guevara Mausoleum and Museum: FREE
Staying longer in Santa Clara
If you decide to stay in Santa Clara overnight, then I recommend the following places for accommodation.
Hostal Vista Park:  A great central location, with a huge terrace, this is the perfect place to stay longer in Santa Clara.  Miguel provides internet access and can provide breakfast, lunch, and dinner as well as local knowledge.  All rooms are ensuite and there is A/C plus a laundry service.  Check availability here.
Hostal Caridad is in a quiet location in front of a beautiful near the Catholic Church. All rooms here have private bathrooms, A/C, and TVs/ There's a terrace and a lovely garden with chairs and tables for guests. You're right in the center of things and the Hostal Caridad gets fabulous reviews and has been hosting visitors for 20 years now! Check room rates here.
And, for more things to see in Santa Clara, our guide is here.
As you're spending the full day in Santa Clara you'll want to prebook your accommodation in Playa Giron. Giron is a small place, with some good accommodation. There are good casa particulars here and also the Cubanacan Hotel at the beach. (this is also where the dive center is based, so it's included as a recommendation of where to stay).
Where to stay in Playa Giron on your Revolutionary 7 day Cuban Itinerary
Edith's Homestay:  We first stayed with Edith in 2017, she and her cute dog and her husband are fabulous.  They spoke no English, we struggled with the rapid-fire Cuban Spanish,  but we had an amazing time.  Breakfasts are fabulous.  Dinner was amazing (ask for the soup!) and she arranged all our diving for us.  Rooms have A/C, there's a garden and I can't recommend it highly enough!  Check rates and book here.
Hotel Cubanacan, Playa Giron: Oceanfront Hotel with A/C rooms with ensuite bathrooms. Double rooms are available as are oceanfront bungalows. You can check rates and booking details here.
Planning your next day in Playa Giron
If you'd like to dive or snorkel in the Bay of Pigs, then the best way to arrange this is to contact and ask your casa particular owner to book you in. Read our guide to diving the Bay of Pigs here. The dive bus does a circuit of Playa Giron each morning and if you're booked in you'll be picked up tomorrow morning! You don't need to pay anything in advance, they'll take cash on the day. If you go to the museum in Giron in the morning of your stay then you won't be able to dive. You can snorkel from the shore at the beach by the Cubanacan Hotel and further along the coast at Playa Coco, but it ain't great snorkeling there.
Dinner in Playa Giron
Depending on the time that you arrive in Playa Giron you might also want to ask your casa owner to provide you with dinner. You'll need to ask this in advance so that they can make arrangements. Otherwise, Restaurante El Cocodril usually has a good selection, or for a snack Café del Sur, near the Viazul Bus stop (and opposite the Museo Giron (Bay of Pigs Museum) usually makes sandwiches.
Revolutionary Cuba Day 6 of 7 day Cuba Itinerary: The Bay of Pigs
There are two key things to do here in the famous Bay of Pigs. The first is to dive or snorkel the area and the second is to visit the museum of the Bay of Pigs invasion.
Snorkel or Dive the Bay of Pigs
Dive trips go in the morning. You can read about diving the Bay of Pigs in our guide here. But suffice it to say, that you don't need to plan anything in advance. If you've not dived before you can do a trial dive, separate from the main group. Equipment is all provided for beginners and more experienced divers. If you don't want to dive, then there are snorkeling options too. The diving that's arranged here in Playa Giron is primarily shore-based, so after you've been kitted out and paid, you'll jump on the dive bus and be driven to the dive site. Easy! At the end of the dive, you'll be dropped off at your casa particular.
After you've cleaned up following your dive, you'll want to grab some lunch and then head to the Museum of the Bay of Pigs.
Museo Giron
The museum here is dedicated to the failed American-led invasion of Cuba. It's small, just a few rooms, but it's fascinating. The invasion, in April, planned by the CIA, involved around 1400 exiled Cubans who landed in Cuba, here in the Bay of Pigs, with the intention of overthrowing Fidel Castro. It failed. Around 100 of the invaders were killed and the remainder were taken prisoner. The museum documents the events in great detail. There's a short film, personal effects, a (rather good) mural and there are even aircraft and tanks involved in the battle outside.
There's virtually no English in this Museum. There are sometimes guides who can speak a little English. There's lots of Spanish signage, and the visit to the museum starts with a video that is a useful introduction.
Playa Giron Museum Opening Time: From 8 am. to 5 p.m.
Address of Playa Giron Museum: Villa Playa Girón, Matanzas, Cuba. (opposite the Café del Sur/Viazul Bus stop)
Entrance Fee for Museum of the City of Havana: Varies – from US$2 +US$1 to take photos
Revolutionary Cuba Day 7 of 7 day Cuba Itinerary: Return to Havana
It's your last day on the Cuban Revolution itinerary and it's time to head back to Havana. Carefully note the departure and arrival times of the Viazul Bus and consider that you will also need time to get from the Viazul Bus station to the airport if you are flying home on day 7. Depending on traffic it is likely to take around 30 minutes to go from the Viazul Bus station to Jose Marti International Airport in Havana.
The bus from Playa Giron to Havana leaves at 10:15 and it arrives in Havana at 13:45. Note that this bus does not continue onto Havana Airport. There are two buses from Havana later afternoon and in the evening that goes to the airport. Alternatively, you'll want to arrange a transfer from the Viazul Bus station to the airport or take a taxi or colectivo, which will be plentiful at the Viazul Bus Station. You will need cash though, as none of the taxis or colectivos accept cards.
Final Words on Exploring Revolutionary Cuba
Whew. This is a whistlestop tour of the main Revolutionary attractions of Cuba. We know it's a tough schedule, but it gets you to the main places AND it used the Viazul buses. Of course, there are other revolutionary sites that you can visit in Cuba, like Fidel Castro's birthplace, his headquarters in the Sierra Maestra, and Bayamo to mention just a few. However, to visit those locations you'll need to arrange private transport or rent a car. And so we hope that you've found this itinerary of Cuba using the Viazul bus useful and that it helps you to plan your trip to Cuba! We'd love to get your feedback and how you'll adapt this Cuban itinerary to fit your requirements!
Cuba's Best is a participant in the Amazon Services LLC Associates Program, an affiliate advertising program designed to provide a means for sites to earn advertising fees by advertising and linking to amazon.com, amazon.co.uk, amazon.ca. Amazon and the Amazon logo are trademarks of Amazon.com, Inc. or its affiliates.